Sunday, December 4, 2011
1st Easter!!!!
Here I cut out the border using "doodlecharm," "A Child's 1st Years" and "Baby Steps"
Wednesday, September 28, 2011
Hello,
Well, I have not posted in a while, school started and boy have I been busy. I have not been able to work on anything. This past weekend I was working on the baby album. I will be posting pictures soon and hopefully this weekend I will be able to work some more on it. Lastly, I am going to take time and scrap on the weekends, I do not get paid enough to also work on the weekends. Well I can't wait to go blog hopping, something I have not been able to do either.
Have an awesome day and weekend.
Steph
Tuesday, August 9, 2011
This week's challenge over at fantabulous Cricut is to make any project with a bug in it. I was so excited because that same day I received my peachy keen stamp - once upon a princess faces and my pink stamper - buggy punnies stamps. As soon as I got I wanted to use it.
Here is what I created
Cricut Cartridge: once upon a princess
Card stock: magenta, light pink, teal, white, peach, lime green and black.
Stickles: magenta, lime green, waterfall
I cut the cloud at 2 1/2".
I used cotton to put on the clouds.
Stickles used on the stars: lime green, magenta, and waterfall
I love butterflies so this is the bug I decided to use for the challenge.
I cut the butterfly at 1 3/4"
Stickies: magenta, and lime green
I cut the girl at 4 1/2"
Stickles: magenta and waterfall
I used the i-rock to put the crystals on the bow and belt of the dress.
Peachy keen stamps: once upon a princess assorted faces
My pink stamper stamps: buggy punnies.
Posted using BlogPress from my iPad
I am making a scrapbook for a friend that is having baby. The layouts will consist of the baby's first year. This is the first one I have made, for the baby's first bath.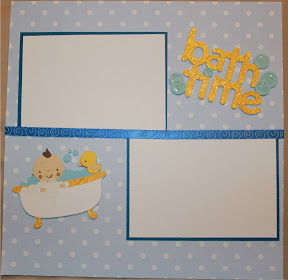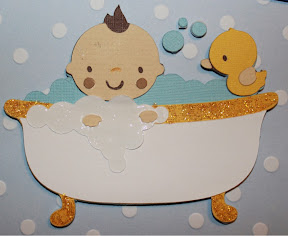 Cricut Cartridge: Baby Steps, image cut at 4.5"
Card stock: brown, beige, peach,white, light blue, and yellow.
Stickles: Yellow.
Glossy accent on the white bubbles.
Cricut Cartridge: New Arrival, phrase cut at 4"
Card stock: yellow and light blue
Stickles: yellow
Glossy accent on bubbles.
Cricut Cartridges: baby steps, image cut at 4"
Card stock: white, light blue, the one on the tub was a scrap I had.
Stickles: baby blue, star dust.